Your home's roof is made up of several components. Picking the right pieces to match your exterior aesthetic is the first thing people think of. Bu...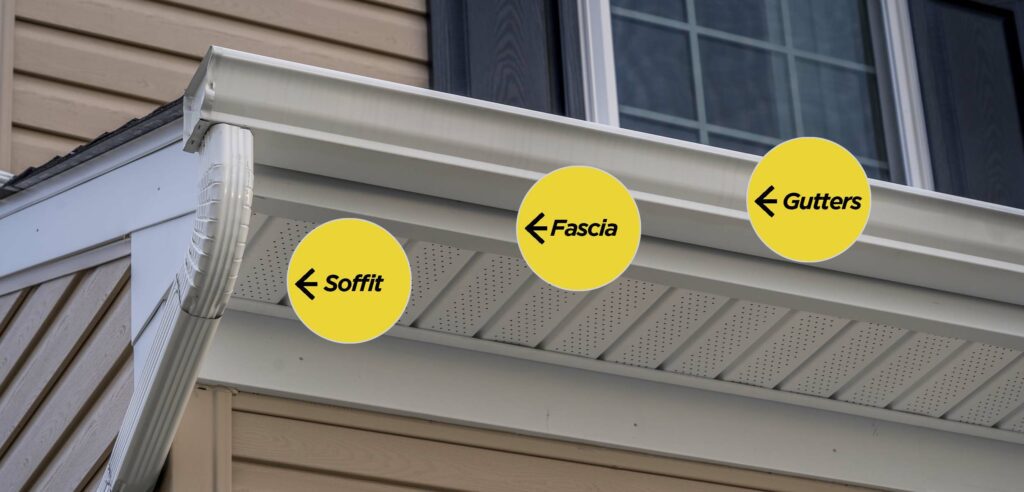 Your home's roof is made up of several components. Picking the right pieces to match your exterior aesthetic is the first thing people think of. But do soffits, facia, and eavestroughs affect the way your roof works?
The fact is that your eavestroughs, soffit, and fascia are all essential pieces of your roofing system. They work together to shed water from your roof and away from places that are vulnerable to damage. Proper installation and know-how are critical to ensure your system looks great and works!
Let's discuss the role of each roofing part and why it's important to take care of these roof components.
Understanding Roof Fascia
Fascia is a critical part of your home's envelope. It is the transitional band between your exterior walls and your roof. Visually, fascia is the part of your roof that "frames" your house when you look at it straight on. Although often overlooked, fascia plays a big role in your home's drainage and ventilation systems.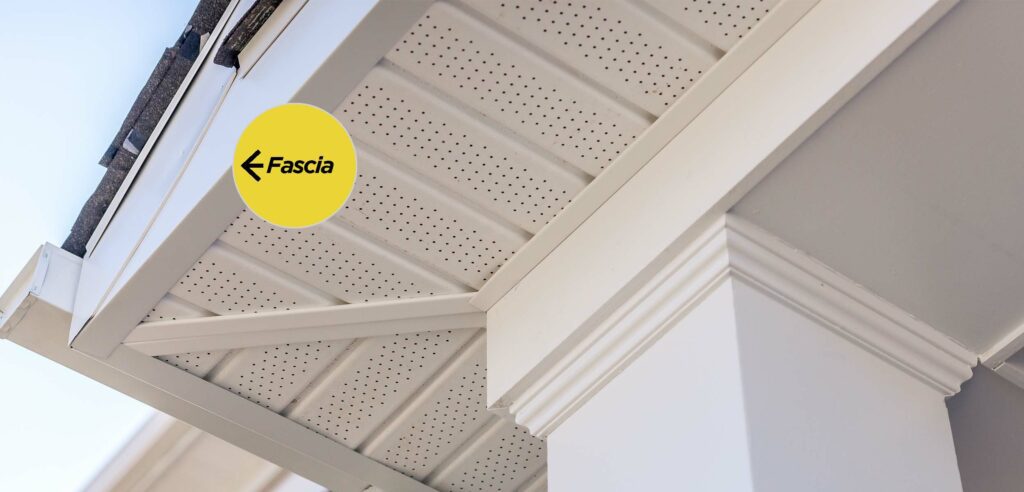 What is the Purpose of Fascia?
Fascia boards are in place along the edge of a roof. They protect exposed structural elements of your roof, like trusses, from the weather. Fascia also provides a support system for hanging your eavestroughs. It's also where a j-channel flashing can be affixed, allowing soffits to be installed.
Additionally, fascia boards enclose openings along your roof's edge. This keeps birds and other pests from setting up shop inside your roof cavity.
Types of Roof Fascia
Fascia boards are almost always wooden but can be clad with several different materials. In the old days, they would just slap a coat of paint on the fascia boards and be done with it. Now there are more cladding options with different purposes in mind.
Cladding covers the exposed side of your roof fascia. It helps weather-protect fascia and extends the life of this roofing material.
Aluminum Fascia Cladding
Aluminum is one of the more common choices in Alberta when it comes to fascia. Its flexibility makes installation easy, as it can be wrapped tightly around fascia boards and other wood fixtures. It helps to shed water from your eaves and protects any covered wood from rotting. Because it's aluminum, it can do this without rusting.
Steel Fascia Cladding
Although much less common, some homeowners choose steel for fascia and cladding. Much like aluminum, it can be custom formed in place to clad wooden fixtures and cover fascia boards. It is more durable than aluminum and less prone to dents and bends. As a result, it can be a more costly option.
Another downside to steel fascia is the rust factor. If it gets nicked or scratched, the exposed steel will rust almost immediately.
Vinyl Fascia Cladding
Vinyl (or PVC) fascia is lightweight, flexible, and durable. It is virtually maintenance-free and can easily be kept clean. Although a more affordable option, vinyl tends to discolour over time with weathering and UV light. This leads some homeowners to look at other options.
Understanding Roof Soffits
Much like fascia, soffits contribute to the aesthetic appeal of a house. However, it serves a greater purpose in the ventilation and protection of your home. Here are some reasons why soffit is more important than you might think.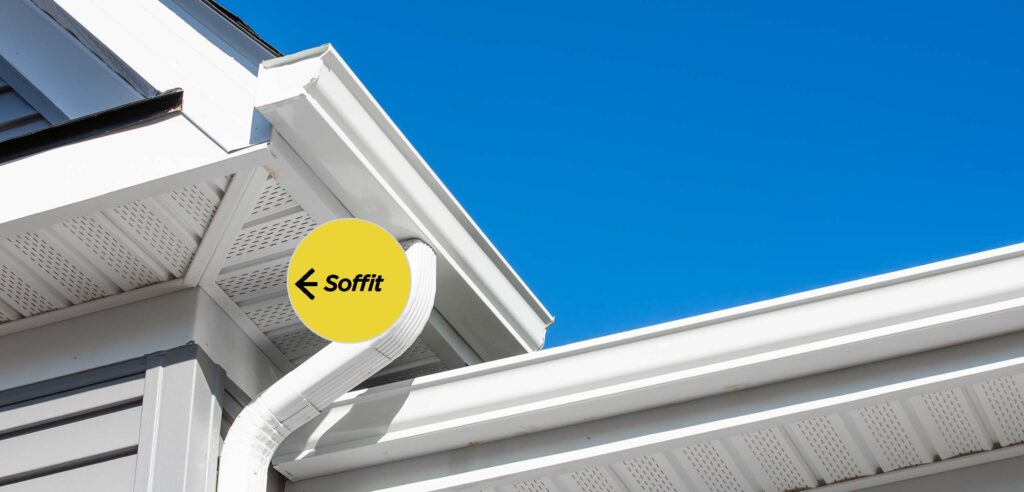 Natural Ventilation
Soffit works in tandem with your roof vents to allow air to pass through your attic. This prevents heat and condensation from building up inside your roof, which leads to mould and wood rot. It also allows your home to breathe during the hot summer months. A properly ventilated attic contributes to lower energy costs and a cool, comfortable home.
Furthermore, continuous airflow will help to improve your indoor air quality.
Keep the Critters Out
Another benefit of correctly installed soffits is the protection from pests trying to share your living space. Birds and rodents love to get into those tight spots along your eaves and gables. Soffits cover those openings, making it nearly impossible for critters to gain entry.
Allergens and dust from animal activity also contribute to poor air quality, so soffits also improve your breathing air.
Understanding Eavestroughs & Downspouts
Eavestroughs and downspouts do the heavy lifting when it comes to collecting water and moving it away from your house. Professional gutter installation and roof maintenance are keys to ensuring you don't run into a drainage headache.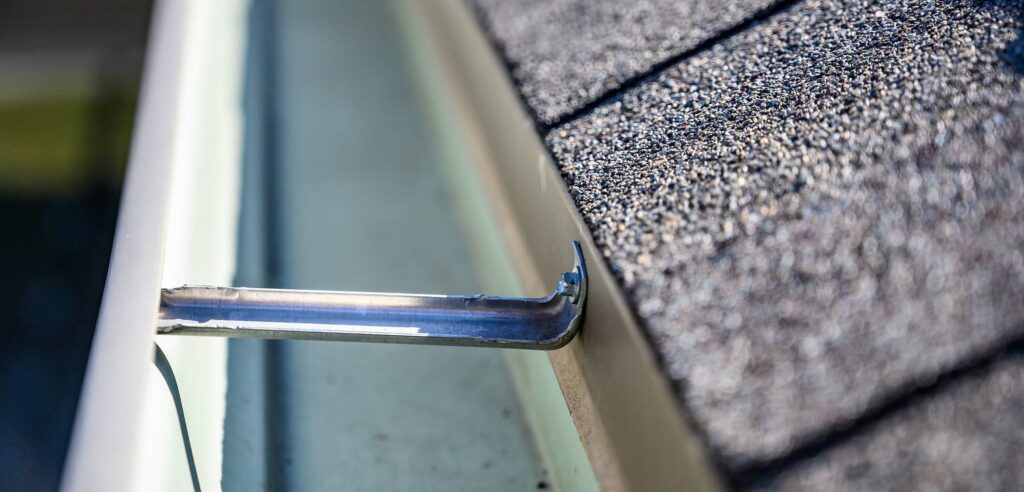 Why Are Eavestroughs Important?
Your roof covers a large area and collects a lot of water during heavy rainfall. Without eavestroughs (gutters), that water simply falls and negatively impacts your lawn and other surfaces.
Water pooling in the wrong places can put your house's foundation at risk of flooding. Gardens and landscaping can be damaged from constant water runoff, and walkways and steps become very slippery. Eavestroughs channel the water towards a downspout where it can drain properly.
Gutters are a critical part of your waterproofing system and must be maintained. Clogged or leaking gutters can cause significant damage to your exterior and even the structure of your home.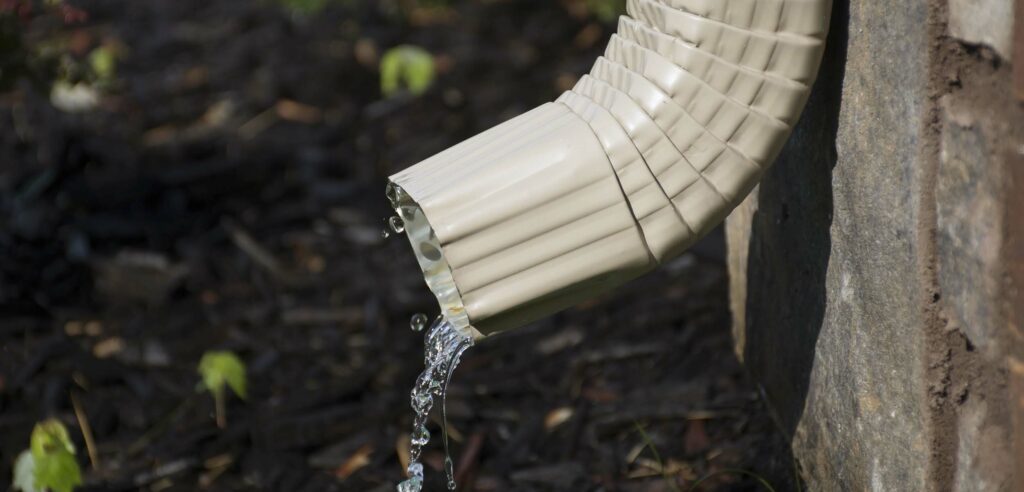 Why Are Downspouts Important?
Downspouts are responsible for getting water from your roof to the ground and away from your house. They need to be placed intentionally with drainage in mind. Many basement leaks are a direct result of a poorly placed downspout.
Downspouts reach the ground and are directed towards the street or downhill. Since they're on the ground level, they are prone to damage from regular activity in the area. A damaged or clogged downspout can be disastrous for your roofing system. A quality, professional installation minimizes the risk of damages with on-site custom downspouts.
Eavestrough Maintenance
Keeping your gutters and downspouts clean is vital. Stillwater in eavestroughs can wick its way into materials along the edge of your roof. This leads to wood rot on the roof deck and even roof trusses if the problem isn't addressed.
Leaf guards are a popular choice for many homeowners. They make cleaning your gutters more manageable and help prevent eavestrough clogs during rainy seasons. Several types of leaf guards keep debris from building up in your roof's drainage channels.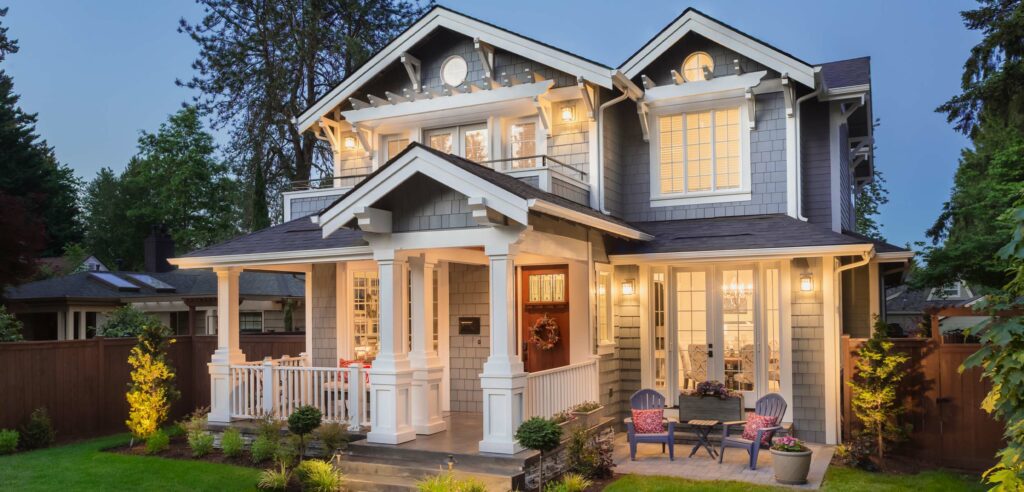 Soffits, Fascia, & Eavestroughs FAQs
I clean my gutters regularly, and they still overflow when it rains. Why is this?
If your gutters are overflowing when they are clean, chances are they are not the correct size for your house. Some contractors install 4-inch eavestroughs without exception, even when the roof's surface area demands a larger size.
Guns N Hoses installs 5-inch, seamless aluminum eavestroughs, ensuring that they won't be outmatched by water shedding off your roof.
Should I get vented or non-vented soffits?
Whether you should get vented or non-vented soffits depends on the current ventilation in your attic. If you have no air circulation running through your attic, you'll want to go with non-vented soffits. On the other hand, if you've had other work done to increase airflow, you may not need additional ventilation.
Keep in mind that you can also get a mix of vented and non-vented soffits if you only need minimal added airflow. A Guns N Hoses roofing expert can evaluate your home's circulation and help you decide on soffit selection.
Can I use my pressure washer to clean my fascia?
You can use a pressure washer to clean your exterior roofing fixtures. You'll want to keep a fair distance and consider turning down the water pressure. A pressure washer at full capacity can dent or bend metal fixtures and cladding and even strip coatings. Proceed with caution.
If I replace my eavestroughs, do I have to replace the soffit and fascia too?
Unless the existing soffit and fascia are damaged, there is no need to replace them if you're getting new eavestroughs.
In the interest of saving on installation costs, you may want to consider replacing soffits, eavestroughs, and fascia at the same time if you have an older home. This also cuts down construction disturbances compared to replacing these parts in stages.
How many downspouts should my house have?
Generally, there should be one downspout for every 50 feet of eavestrough. This can vary if a part of your roof experiences a higher volume of water. Identifying where and how many downspouts you need for proper drainage is a service offered by a professional roofing contractor.
If you have any other questions about soffits, fascia or eavestroughs, please get in touch with us at Guns N Hoses Roofing. Our roofing experts can outfit your home's exterior with solutions that look awesome and keep your home protected!
Related Posts: