Are you tired of slipping on ice in your driveway? Are you fed up with water dripping all over the front step? The lawn is flooding and the darn gutt...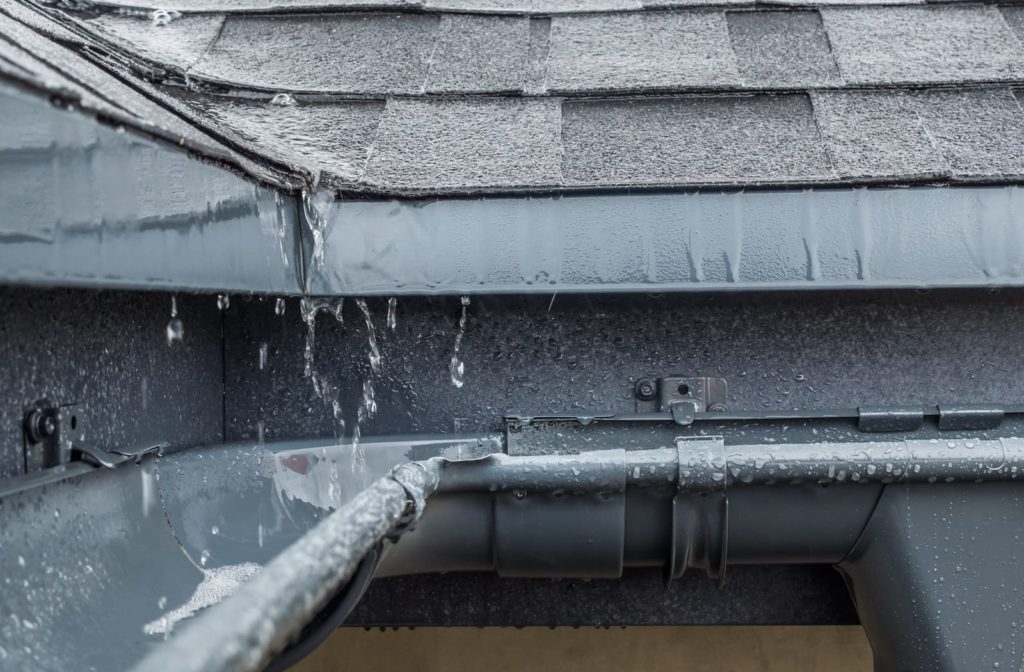 Are you tired of slipping on ice in your driveway? Are you fed up with water dripping all over the front step? The lawn is flooding and the darn gutter won't drain right? So fix it!
Reliable gutter services are more affordable than you think! Don't get caught in the cold November rain. Learn how roofing professionals fix your gutter and ways to solve the problem yourself.
Gutter Leaks Are Bad
If you're not totally sure what a gutter is (or eavestroughs, for us Canadians), it can be simply described as a roofing drainage system. Gutters direct water from your home's roof to safe places on your property. This series of troughs and downspouts are affixed to the exterior of the home and control water flow during rain or snowfall.
Leaking or Clogged?
Depending on waterfall patterns, you may have a clogged gutter, as opposed to actual holes or leaks. It is very common for falling leaves to build-up in a gutter and clog drainage channels, especially during the autumn months. The major clue to indicate a clog is water pouring over the top of the eavestrough, as if a mini-dam is being made. Adding a Leaf Guard to your home's exterior can eliminate most potential clogs.
Safely climb a ladder and take a look into the gutter to make sure it's not a jungle. Remove any leaves, dirt, debris, or other muck to identify any obvious holes or tears. Test the trouble spot by pouring water along your eavestrough. If water continues to drip from below or through the gutter, then you have a leak and it's time to take action.
Leaky Liabilities
Anyone familiar with Alberta winters knows that sudden temperature drops turn puddles into sheets of ice very quickly. Positive temperature swings melt ice and increase roof runoff. Mismanaged gutters can leak all over your sidewalk, along the driveway, and onto your front step.
Inconvenient and potentially dangerous icicles may form from slow gutter leaks. Nobody wants to see their sweet child slip on ice or get donked by an icicle. Remember that summer gutter leaks can turn into more serious winter problems.
One of the biggest risks a leaky gutter presents is flooding. Misdirected roof water can pool in dangerous places on your property and destroy lawns and landscaping. In worst-case scenarios, water can flood your basement, with average costs reaching upwards of $43,000. Although you can't control the weather, you can help prepare your home with gutters that are secure and leak-free.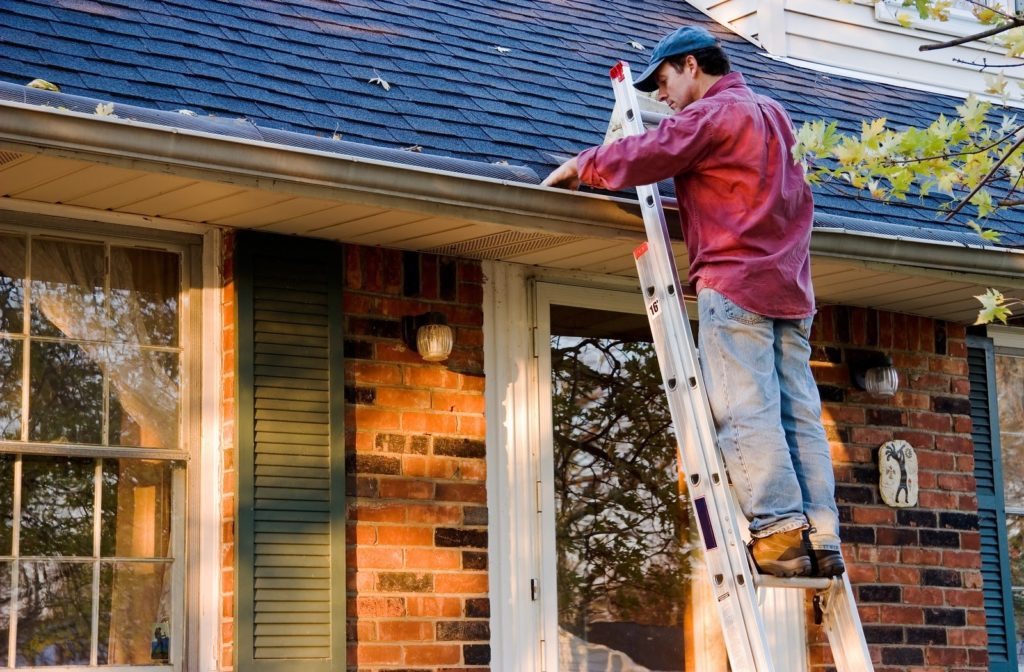 Do-It-Yourself Method
These are steps for a simple gutter repair. If you notice multiple gutter leaks, or that leaks frequently come about, it is likely time for a replacement. More complicated jobs are best coordinated with experienced roofing and home exterior experts.
Tools for The Job
Here is a list of tools and materials that will make a DIY gutter fix smooth and timely:
Ladder (10ft working height)
Tin snips
Power drill
Wire brush or paint scraper
Abrasive pad or coarse sandpaper
Transition flashing
Waterproof silicone or caulk
Step 1: Prep the Area
First remove debris and crud from the gutter. Depending on where the leak is, you may need to unscrew a joint or bracket. Use a wire brush to further clean around the leak. Rough up this section of gutter with the abrasive pad, as more texture will help the seal.
Step 2: Seal Small Holes
Small holes or tears in the gutter can be resolved by applying a waterproof sealant. We are talking about holes no bigger than a nail head. Make sure the silicon completely fills the hole, tear, or crack, and allow it to dry.
Step 3: Patch Large Holes
For larger holes or slashes, you will be patching the gutter with transition flashing or aluminum repair roll. Cut a piece of material larger than the hole itself and place it inside the gutter, forming to the shape of the trough. Use sealant along all borders where the flashing meets the original gutter, making sure there are no gaps. You will need just a little patience as the silicon dries.
Step 4: Double Check the Fasteners
Your gutter may be attached with clips, spikes, or screwed in brackets. Older gutters may sag or become loose over time. Make sure the eavestrough is firmly attached to your home's exterior and that the gutter slopes about a ½ inch for every 10 feet towards your downspout.
Step 5: Wait for Rain
Make sure to monitor what were once the leaky parts of your gutter. You want to ensure any DIY fix can withstand heavy rains and harsh weather. If problems persist, get experienced professionals on-site.
Leave It to a Pro
Although some leaks can be fixed with home tools and a ladder, it is definitely worth calling a local pro for quotes on gutter repairs. Home exterior specialists are insured for the risks of roof repair and almost always provide warranties for gutter restorations and upgrades. Professionals may also have suggestions for solutions that best suit your regional climate.
What is a Leaf Guard?
A Leaf Guard is a system that protects your gutter from excess debris and leaf build-up. Material is strategically placed over top of the eavestrough, preventing solid materials from drifting in, but allowing water to runoff. This addition can be installed on existing gutters and is highly recommended when clogs are common.
Unintentional roof runoff can flood your lawn and kill your grass- or worse! Expert gutter installation and repairs (including downspout placement) produce a landscaping paradise where the grass is green.
What is Heat-Line?
For those that live in colder climates, it is worth considering Heat-Line installation. Preventing ice build-up during winter months limits trough expansion. This occurs when ice unevenly expands in the gutter and destroys joints in the eavestrough. Heat-Line treatment will help prevent leaks and prolong the life of your home's gutter.
No More Leaks, No More Tears
Whether you fix a leaky gutter yourself or consult with a professional, there are so many benefits to keeping your eavestroughs maintained. Improved gutters mean better aesthetics and safety when someone comes a knock, knock, knockin on your door. Efficient eavestroughs can naturally irrigate your lawn and prevent bigger homeowner headaches.
After all, everyone deserves a leak-free gutter to live and let dry!
Related Posts: