Ah, spring cleaning. As the weather improves, we are met with a renewed sense of purpose. We declutter a few closets, vacuum out the car, and sweep t...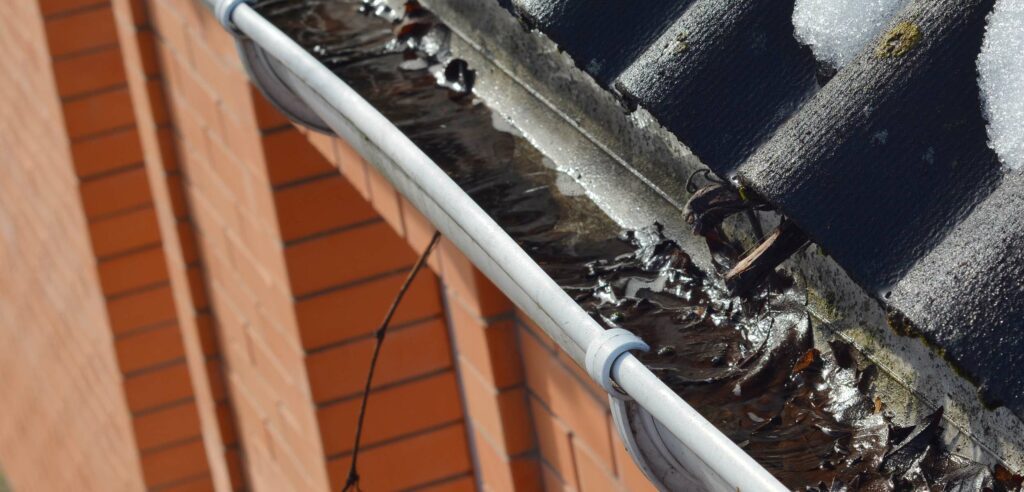 Ah, spring cleaning. As the weather improves, we are met with a renewed sense of purpose. We declutter a few closets, vacuum out the car, and sweep the garage, but what about your gutters?
Up high and out of sight, it's easy to forget about the gunk and debris building up near the roof of your home. Gutters are an essential part of protecting your home from the elements. Here we'll explore what you can do to get your eavestroughs spring-ready to enjoy a worry-free rainy season.
Why Are Gutters So Important?
Gutters, eavestroughs, whatever you call them, every house needs them. It's those channel drains hanging off the edge of your roof. Any climate that receives precipitation needs functioning gutters to properly drain water and to keep your property manageable.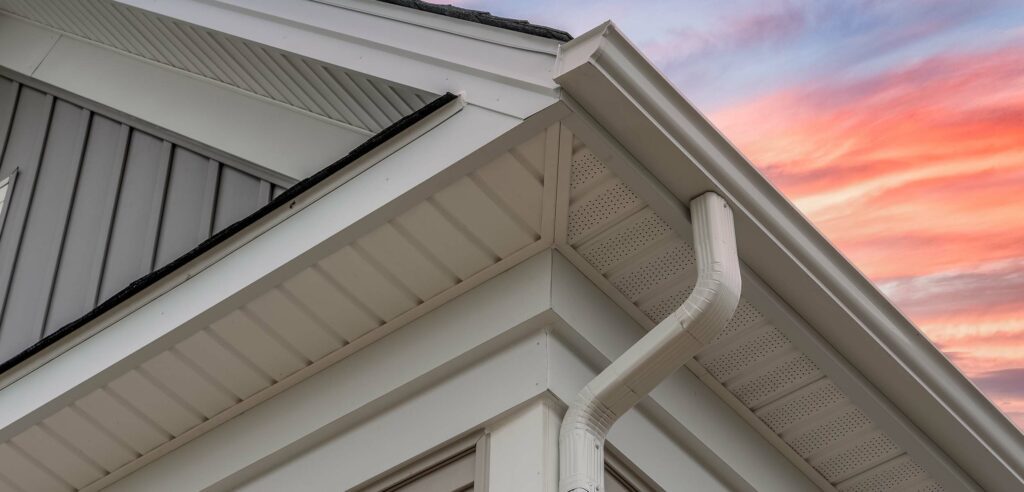 What is a Gutter?
Gutters are a key component of the water drainage system in your home. Usually made from high-quality aluminum, gutters direct water from your home's roof to safe places on your property. This series of troughs and downspouts are installed on the exterior of the home and control water flow during rain or snowfall.
Properly installed gutters protect your home from water damage, improve ventilation and increase air circulation preventing roof decay. Directing water runoff to strategic locations prevents water from pooling at your home's foundation.
Not to mention that gutters stop you and your houseguests from getting dripped on with dirty roof water every time you enter or exit your home!
Why Should I Keep My Gutters Clean?
Throughout the winter, snow and ice trap twigs, leaves, and other outdoor muck on your roof. When the snow melts, all this material gets washed into your eavestroughs. So it's normal for your gutters to be clogged or blocked once the spring weather hits.
Clogged gutters can pose a huge problem if left unattended.
When debris builds up, excess water has nowhere to go and starts to rise. The gutters will eventually overflow, causing the water to seep into your roof and siding, which can lead to costly repairs. This overflow will damage your roof's fascia, soffits, and starter shingles.
Large volumes of water can also fall down onto walkways, causing a slippery surface and increasing the risk of falls and injury.
It's crucial that gutters flow freely and channel water away from these potential problems. The best time to give your gutters a little TLC is just as the winter fades away and the snow turns to rain.
Spring Gutter Prep
Okay, now we know a bit more about gutters and why we should add them to our spring cleaning arsenal. Be advised that prepping your gutters is one of those jobs that is only possible after the temperature rises. At the very least, it's more enjoyable.
Here are some things you can do to get your eavestroughs spring-ready.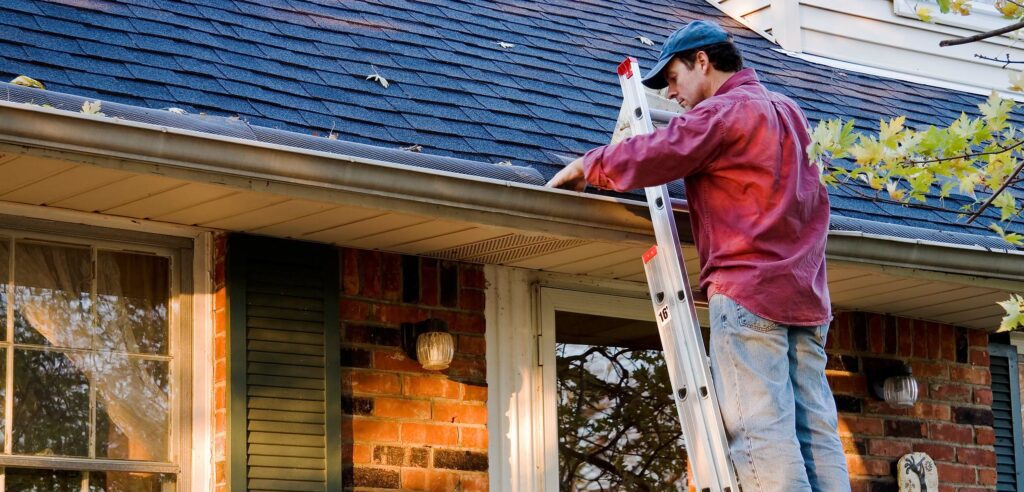 Do A Once Over
Grab a ladder and some work gloves, and take a look at the current state of your gutters. Clear out any large chunks of debris you find, and then pour some water to help clear the smaller, more stubborn bits.
Once they are cleared, look for any cracks or holes that need to be repaired. Small holes can be fixed by applying a waterproof sealant. More significant damage can be patched with transition flashing or aluminum repair roll. Both sealants and repair rolls can be found at most major hardware stores.
Finally, double-check the fasteners on your gutters. Older gutters may become loose and sag over time. Replace or tighten these as necessary, and ensure your gutters are firmly attached to the exterior of your home. They should also slope about a ½ inch for every ten feet toward the downspout.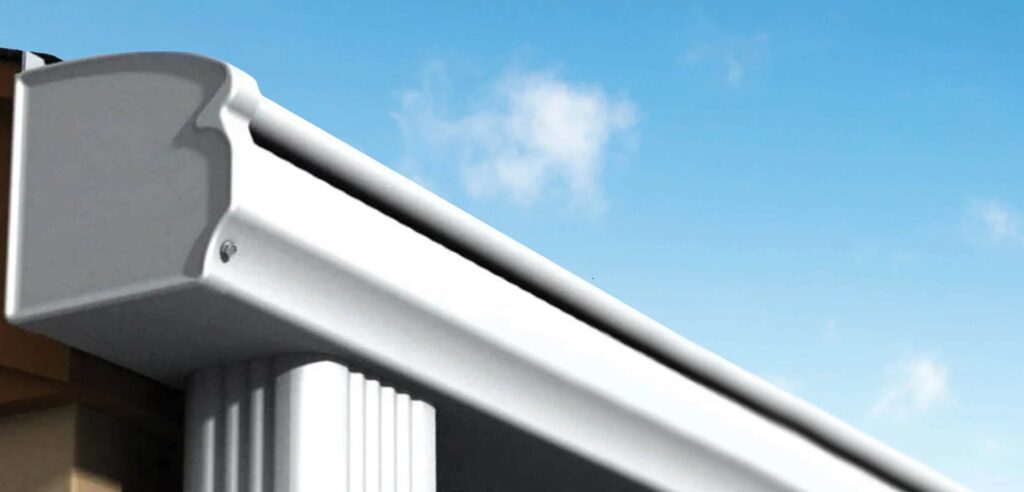 Install a Leaf Guard
Leaf guards help prevent debris from causing clogs in your gutters. For homes without leaf guards, this debris can slide down the roof and into your gutters during rain or windstorms. If the channels become clogged, water can back up and spill over the sides, damaging your home.
Leaf guards protect your gutters against:
Leaves
Pine needles
Twigs
Debris from animals
Rocks and small stones
Mud
A leaf guard essentially eliminates the need for you to clear eavestroughs throughout the spring and summer. But annual roof maintenance should still be performed at the end of every winter.
Different types of leaf guards are available, depending on your eavestrough design. Our roofing specialists can discuss your options and help you make an educated decision.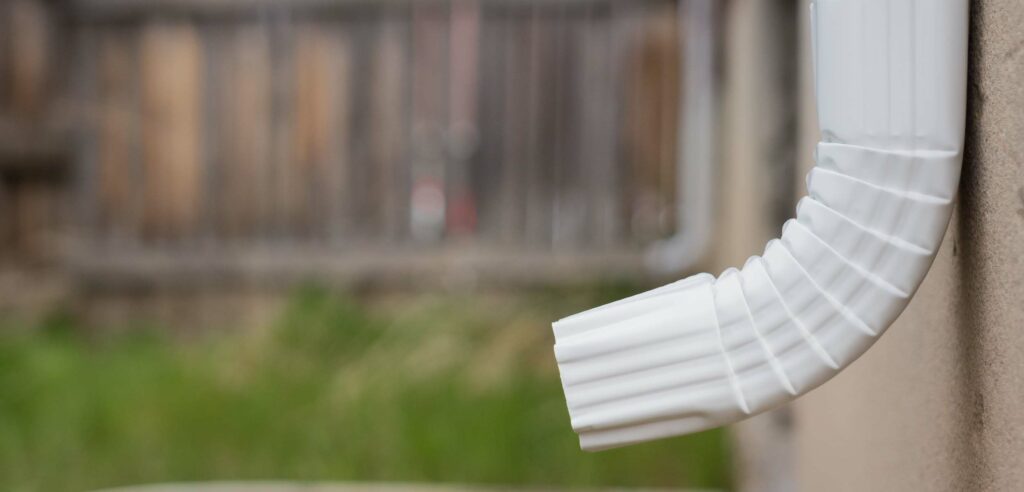 Check Your Downspouts
Your roof's water drainage system doesn't stop with the gutters! Downspouts are also essential for clearing water off your roof and to the right places.
Downspouts are the metal (usually aluminum) tubes that run along the side of your home and connect to the drain in your gutter. The bottom section of your downspout is usually adjustable and can be placed in an area appropriate for water run-off.
A simple flow test can be done by pouring water into your gutter and seeing if liquid exits the downspout opening. Check your downspouts for the following issues if the flow is impeded:
Warping due to freezing
Blockages
Damaged openings
Cracks or holes
If a downspout is significantly damaged, it's best to simply replace this part. Typically, downspouts are affordable and available at your local home improvement store. Alternatively, your roofing contractor can replace your downspouts during your annual roof inspection.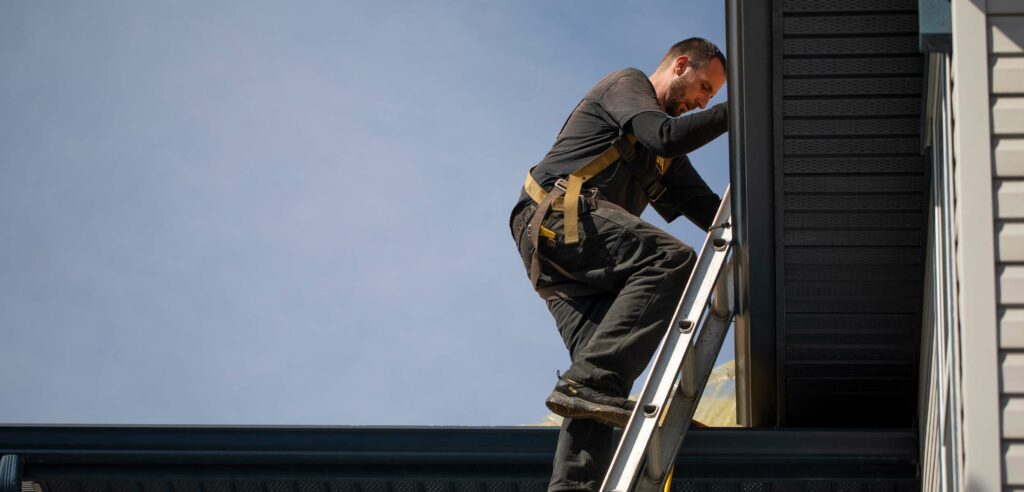 Bring In The Professionals
Although some gutter prep work and repairs can be done with your own tools, it's worth calling a local professional for bigger jobs or if anything seems amiss. Cleaning gutters isn't the most glorious job, but it's an important part of getting your home and yard spring-ready.
The home exterior specialists at Guns N Hoses Roofing are insured for the risks of roof repair and provide an industry-leading 5-year workmanship guarantee on gutter restorations and upgrades.
We also offer various financing options to help you get the roofing repair, replacement, or inspection you need in a timely manner.
Spring Into Spring With Clean Gutters!
These gutter maintenance basics will prevent water from collecting where you don't want it to. To keep your entryways dry and your roof in top condition, your gutters need to be clear and free from debris.
If you're not into tackling gutter maintenance alone, you can always call Guns N Hoses Roofing for professional roofing services. One way or another, make sure that your gutters are getting the attention they need to stave off water problems for another year.
Related Posts: