If you're deciding between fixing a damaged roof or replacing the whole thing, you're probably wondering, "how long does a roof last?" There's ...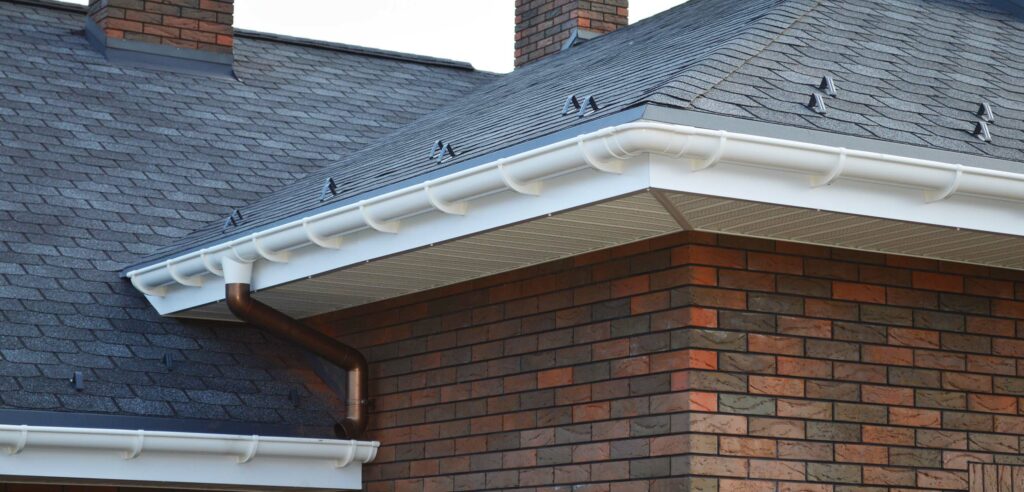 If you're deciding between fixing a damaged roof or replacing the whole thing, you're probably wondering, "how long does a roof last?" There's no exact answer to this question. It depends on the materials used and other factors.
Whether it's new construction or you're replacing an old roof on an existing home, you'll want to consult a roofing contractor before making your final decision.
Let's discuss what influences a roof's lifetime and what to expect out of each roofing material.
Why Is a Healthy Roof So Important for Your Home?
Well…your roof protects your home and everything in it from the sun, rain, snow, wind, hail, and everything else mother nature throws at you. A healthy, well-functioning canopy is essential for keeping your family safe and keeping all the things you own and love dry.
Your roof is a part of your home that can lead to other trouble when it's in disrepair. Water leaks and mould in your roof or attic can eventually lead to structural damage and other complications.
Your home's roof is a guardian of your living space and it's also a major part of your property's aesthetic and resale value.
Why Does a Roof Need To Be Replaced?
A roof is exposed to the elements 24 hours a day, 365 days a year. Over time, this exposure takes its toll and can cause it to deteriorate. Additionally, inclement weather can cause damage to a roof that needs to be repaired.
Almost all construction materials need to be replaced after years of being battered by winter storms and spring rains. Southern Alberta's chaotic weather patterns take no mercy on residential roofing.
Eventually, your roof will reach a point where it needs to be replaced.
How Long Can You Expect A Roof To Last?
Several factors affect how long a roof will last. The type of roofing material is one of the most important factors.
Residential roofs can be flat (which is rare) or be built with angled roofs, either gable or hip. The vast majority of homes in North America have sloped roofs, and shingles are by far the most common roofing material for residential roofing. So let's focus on shingle types when discussing expected canopy lifetimes.
Factors That Affect The Lifespan Of A Roof
Installing or replacing a roof is a big project! All parts of the exterior of your home are affected by more than just the materials they are made of.
The lifespan of a residential roof is affected by many factors, including:
● The roofing materials and shingles used.
● Climate. Hurricanes, tornadoes, blizzards, and hail storms can substantially lessen the lifetime of a roof.
● The slope. A steeper slope means that water and other debris will roll off more easily, which can extend the life of the roof.
● The quality and integrity of roofing substrates and the supporting structure.
● The quality of craftsmanship during installation and roof maintenance and repair.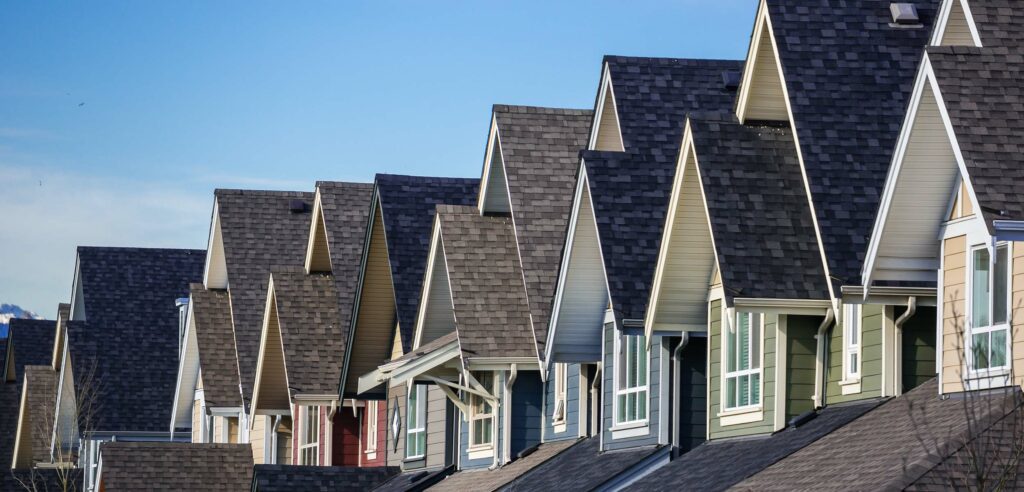 Typical Lifetimes for Different Roofing Materials
The type of material you select for your roof, the shingle type used, has a major impact on how long it will last before it needs to be replaced. In general, the more life you want out of your roof shingles, the more expensive they'll be.
The most common type of residential roofing across Canada is asphalt shingles. Asphalt shingles are the most affordable and, unsurprisingly, have a shorter lifespan than other roofing materials. Aesthetics, installation costs, and other functionalities can also affect the price of roofing materials. Check out this blog for more info on shingle materials and the benefits of each.
If we're being a bit general about it, a new asphalt shingle roof that has been professionally and properly installed should last between 15 and 30 years.
Average Life Expectancy for Different Shingle Materials
Getting the maximum life out of your roof shingles requires maintenance for some types. And keep in mind that felt underlay, membranes, and other parts of your roof may need to be replaced before the actual shingles.
Ask your roofing contractor about the expected lifetime of the exact material and products you are considering.
| Roofing Material | Expected Lifetime |
| --- | --- |
| 3-Tab Asphalt | 15-20 years |
| Architectural Asphalt | 25-30 years |
| Rubber Roofing | 40-50 years |
| Wood Shakes | 30+ years |
| Metal Roofing | 50-70 years |
| Clay Tiles | Up to 100 years |
| Slate Roofing | Up to 100 years |
| Composite Shingles | 20-40 years |
Things to Consider When Replacing Or Repairing Your Roof
Fixing a roof is not always a simple decision! If your roof is older, you may be debating between repairing issues or installing a new top on your home. When it comes time to replace or repair your roof, there are a few things to consider:
1. First, you need to evaluate how much new material and labour the project will require. If you only have damage in one area, it may be more cost-effective to just have that section repaired. However, if the damage is widespread, it may make sense to replace the entire roof.
2. How long has it been since your last roofing repair? Are shingles constantly being damaged or falling off? A bunch of cumulative repairs may end up being the same price as a whole roof replacement.
3. Another thing to consider is the type of roofing material you need. If you live in an area with severe weather conditions, is your current roofing material strong enough to face the elements?
4. Finally, you need to choose a reputable roofing contractor who will quote both repairs and replacement. Avoid companies that push you into a replacement without a thorough assessment.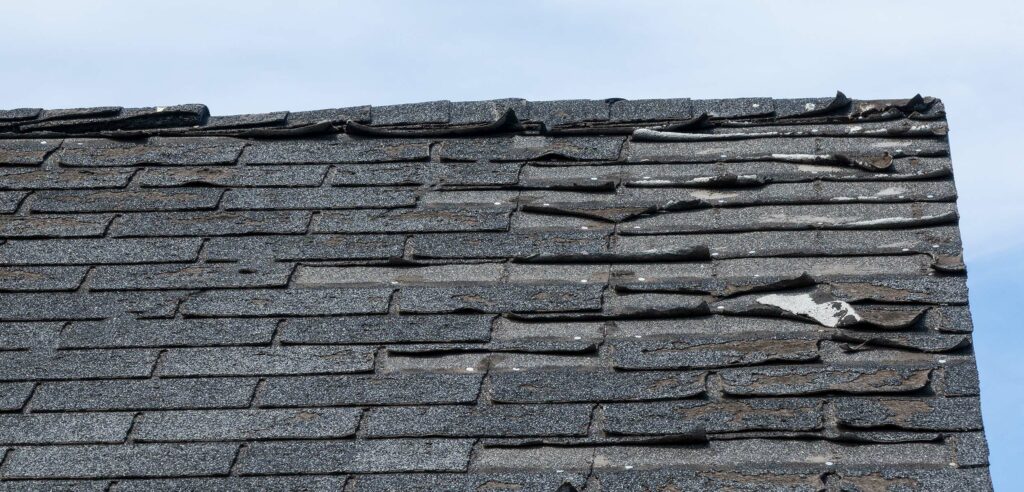 The Benefits Of Working With A Roofing Contractor
There are definite benefits to working with a roofing contractor. Like any specialist, a roofing contractor is a resource to help you make a better decision. Unless you have the experience and right safety equipment, getting up on a sloped roof is dangerous and not recommended.
Some benefits of working with a residential roofing contractor include:
● Installation and repairs are performed properly by experts.
● Many reputable roofing contractors often warranties on their work.
● Some insurance companies may require you to hire professional roofers for full coverage.
● A roofing company can help you make the best decision about repair vs replacement and what materials to use.
● Roofing contractors take the DIY stress off your plate!
Questions To Ask A Roofing Contractor Before Hiring Them
Protect yourself, your home, and your wallet by asking a few cursory questions before letting a roofing contractor examine your shingles. This will help eliminate headaches and give you confidence once the job begins.
● Ask them to please provide references? (and check Google reviews!)
● Ask them about their expertise with the roofing materials you want to use.
● Ask what they recommend and WHY they suggest a certain material or replacing the entire roof.
● Ask about warranty policies and workmanship guarantees.
Let Us Help You Get the Most Life Out of Your Roof
So a new residential roof can last anywhere between 15 and 100 years! That doesn't tell you much unless you select a specific roofing material and know what type of weather your shingles will be exposed to.
Asphalt shingles will last about 20 years or more and are the cheapest to install. Slate and metal roofing can easily last several decades with a proper installation.
Whatever type of shingle you choose, working with a trusted roofing contractor will help make your investment last longer. Guns N Hoses repairs and replaces roofs for homeowners with a wide range of budgets. We'll make sure your new roof gets the very most out of its lifetime.
Related Posts: