If a hail storm recently swept through your neighbourhood, you may be wondering how to tell if your roof has been damaged. Identifying hail damage on...
If a hail storm recently swept through your neighbourhood, you may be wondering how to tell if your roof has been damaged. Identifying hail damage on siding is relatively straightforward, as it is easy to see. However, determining whether your roof has sustained damage from a hailstorm may be a little more complicated.
It's essential to be able to assess how badly your roof has been damaged so you can determine if you need to get your roof repaired.
Keep reading to find out how to identify hail damage on your roof and how to fix it if it does happen.
What Factors Affect Damage?
Several factors impact how much damage a hail storm can do to your roof. The three main factors are:
The direction and speed of the wind
The size and shape of the hail
The type, age and condition of your roof
How to Identify Hail Damage
The good news about hail damage is that it is typically covered by insurance. But, in order for your claim to be approved, it has to be properly assessed by a professional roofing contractor.
If you're not sure if you need an inspection, we've made a step-by-step guide to help you identify hail damage and determine whether or not it needs to be repaired.
Step One: Checking for Damage
The steps required to assess your roof for hail damage are:
Safely set up a ladder, so you have access to your roof
Check the metal roof vents, ridge caps and shingles of your roof and note any damage
Look for any additional dents, cracking or missing pieces
Step Two: Identify the Severity of Damage
The 3 major signs of hail damage include:
Bruising: Bruising refers to dents that have a little give. They aren't always visible, so you should use your hands to feel for damage.
Cracking: If there are circular cracks in any area on your roof, it was most likely caused by hail.
Missing asphalt: Missing pieces in the asphalt may be a sign of hail damage. Look for areas on the shingle where you can see the black substrate underneath.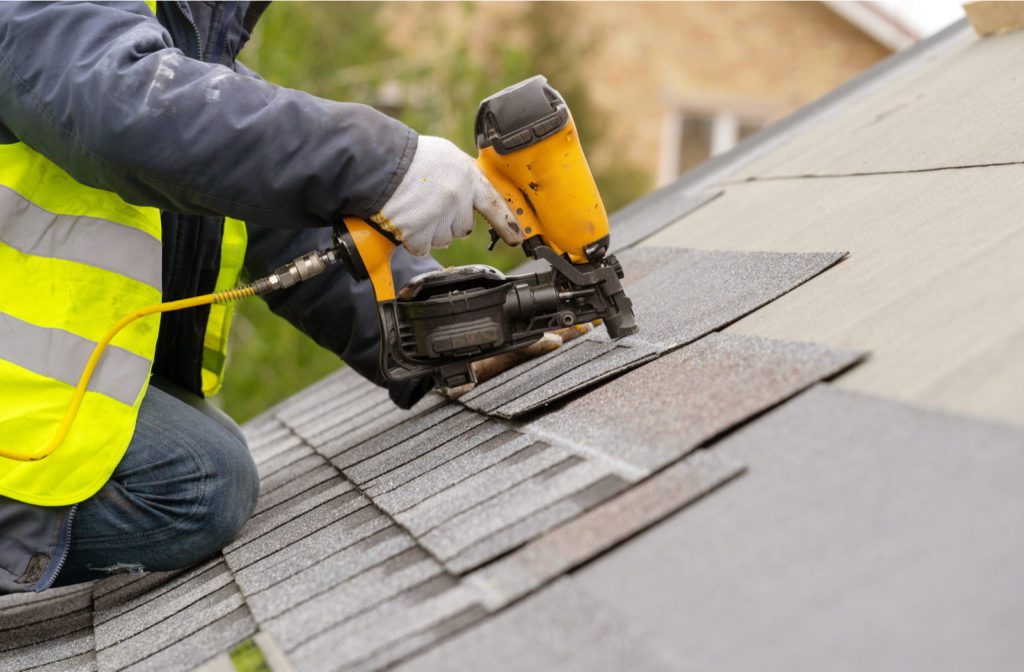 How to Fix Hail Damage
Even if your roof hasn't been severely damaged, it is crucial that you don't ignore it. Over time, chipped or damaged shingles can lead to gaps in your roofing system and can cause further damage such as leaks.
Being proactive about hail damage can save you from having to replace your roof unnecessarily.
Unfortunately, hail damage to your roof is not easy to repair on your own if you don't have the tools and expertise. The best way to repair a roof that has been damaged by hail is to contact an experienced, local roofer you can trust.
If you have assessed the damage to your roof and decide you need to get it professionally repaired after a hail storm, there are a few steps you can take to make the process easier. Before contacting a professional, you should:
Contact Environment Canada to get a storm report
Call your homeowner's insurance provider to inform them you are making a claim
If you want to make a claim, find out how long you have to do so
Carefully select a company that is willing to communicate with your insurer
Preventing Hail Damage
According to Environment Canada, most of the damage to your house during a hailstorm occurs to roofs and roof coverings. If you live in a place with frequent or severe hailstorms, you should consider taking preventative measures to protect your roof from future damage.
Unfortunately, it is impossible to completely safeguard your roof against all damage caused by a hailstorm, but you may be able to reduce the severity of damage. Some preventative measures you can take include:
Get an annual roof inspection to identify potential problem areas
Consider getting your roof replaced using more durable materials
Keep your trees and shrubs trimmed to avoid debris damaging your roof during a storm
Have an emergency storm plan ready with all the necessary insurance information
The Takeaway
According to the Insurance Bureau of Canada, the frequency, severity and cost of hailstorms are rising across the country. If you live in an area that is prone to hailstorms, it is important that you know how to assess your home for damage and what to do if the damage requires repairs.
To keep up with the condition of your roof, it is best to receive a yearly inspection. Ensuring that your roof is in good condition can save you from costly and unnecessary repairs later on and can even lower your risk of hail damage in the future.
If you have any questions or concerns about hail damage, contact us today!
Related Posts: