Have you ever worried about hail, wind, or a rogue baseball damaging your siding? Even worse, have you experienced it? These cracks and holes may cause future issues and they can create an eyesore. Before you call a contractor for help, try some of these solutions for damaged siding.
Different Types of Siding
The solution for your damaged siding depends on what you have installed. There are many different types of siding, and there are variations of each kind. You'll typically find siding made from vinyl, wood composite, or stone veneer on the average home.
Vinyl
Vinyl siding is one of the most common materials you'll find on a home. It's versatile, low maintenance, and durable with low installation costs.
Dust and debris are easy to remove with water and you won't need to worry about having to paint your house exterior. Your siding never needs to be primed or re-painted.
Composite Wood
Composite wood siding brings a natural feel to your home. It is more rot, insect, and moisture resistant than regular wood siding. It can be extremely durable with proper maintenance.
It's important to regularly inspect for any rot, insect, or other damage. Composite wood requires some maintenance but can last many years when properly taken care of.
Stone Veneer
Stone veneer is perfect as a lower-cost stone finish for your home. It is typically made from thin, lightweight concrete and is relatively low maintenance. Similar to vinyl siding, you don't need to worry about maintaining paint or regularly checking for moisture damage.
Modern siding is focused on long-lasting durability, but your siding can still be damaged by wind, hail, water, or human error. Follow the right steps and you can fix any minor siding damage instead of calling a professional.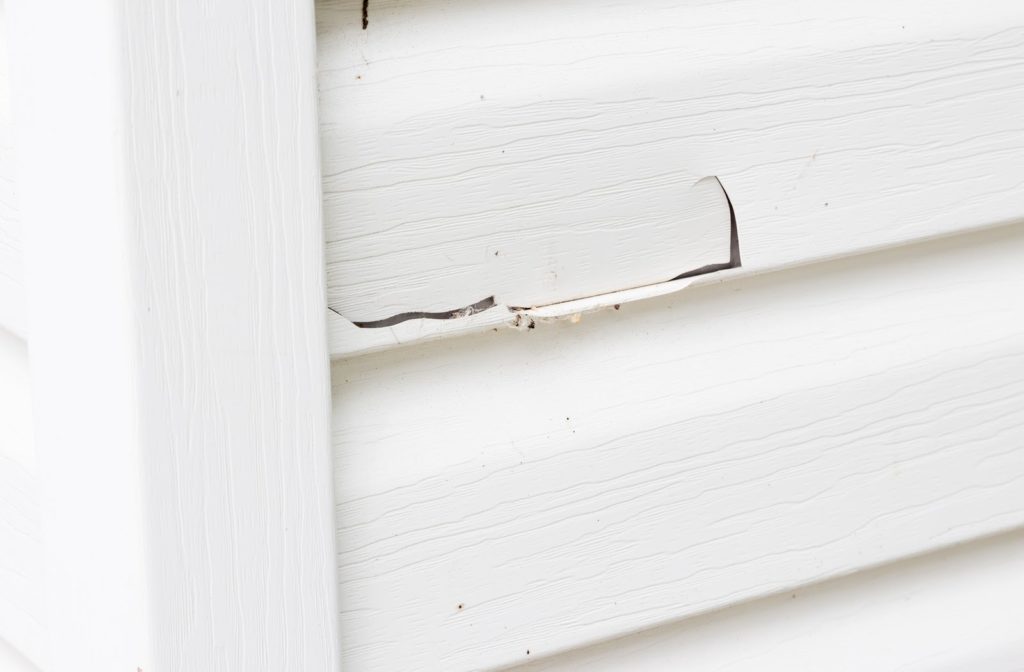 How to Fix Damaged Siding
There are a variety of ways to fix damaged siding. The solution depends on the type of siding you have and the severity of the damage. Whatever material you have, you can find a way to fix minor damage before it potentially worsens.
Vinyl
Your vinyl siding is durable but still susceptible to chips, holes, dents, cracks, and other damage. The right fix depends on how damaged your siding is, but there are solutions for small, medium, and large amounts of damage.
Small hole repair
Small holes in your siding can be easily fixed with some caulk. No matter the reason for the hole, follow these steps for a quick and inexpensive fix:
Clean the surrounding area with soap & water (allow 2 hours to dry)
Prepare the caulk gun
Fill the hole with enough caulk
Let the caulk dry for 24 hours, scrape away any excess material
Patching vinyl siding
If the damage is too large for caulk, you can patch up the area with some same-coloured siding. This fix isn't as simple, but follow these steps to restore your siding to normal:
Clean the surrounding area with soap & water (allow 2 hours to dry)
Use a scrap piece of siding, cut a patch larger than the damaged area

Make sure to include the upper edge of the scrap piece (the nail hole strip)

Place the patch over the hole & ensure the patch fits in the siding curves
If everything fits, apply caulk to the back of the patch & the hole
Apply pressure to ensure the pieces stick together
Clean the area & remove excess caulk after it has dried
Replacing vinyl siding
Sometimes the damage is too great and you need to replace a siding panel. Follow these steps for a quick and efficient replacement:
Lift the panel above the damaged section
Use a zip tool horizontally across the panel to separate the connection
Cut the replacement section to the correct length
Ensure the new piece connects by hooking the bottom edge onto the lower panel
Lift the bottom edge of the upper panel, expose the nailing track, & fasten the new panel in place with nails or screws

Leave enough space for the siding to react to seasonal changes

Secure the bottom of the new panel with the zip tool by sliding it along the new & lower panels to lock them in place
Composite Wood
When composite wood is damaged, it's best to fix the problem right away. Save yourself the trouble and replace damaged panels with these steps:
Remove any damaged planks with a flat pry bar
Measure & cut the new board to the proper dimensions
Prepare the new board to match the colour & look of the existing siding
Nail the new board into place using a hammer & nails

Nails should be near the top of the panel

Seal the panel in place with caulk
Stone Veneer
Stone veneer is a relatively low maintenance type of siding, but any cracks or damage should be addressed as soon as possible. Follow these steps to patch up any minor damage on your stone veneer siding:
Minor cracks
Mix stone putty matching the siding colour
Apply the mixture using a putty knife as smoothly as possible
Wait to dry
Use sandpaper to grind down the hardened putty to match the existing stone
There is usually a do-it-yourself solution to any minor siding damage on your home, but depending on your situation, it may be better to leave major repairs to the professionals. Your local contractor can provide you with solutions to any damaged siding.
Call if You Need Help
If you sustain major damage to your siding, don't lose hope. Your home deserves to look beautiful, and your siding shouldn't suffer. Contact your local siding professionals and receive a quote.