Nothing lasts forever, and this even applies to your roof. You may need some repairs after a typical Alberta hail storm, but how do you know when you need a replacement? If all you see are shingles when looking at your roof, continue reading to learn some expert advice on 7 signs you need a replacement.
Your Roof's Age is Showing
There isn't a guaranteed life span for your roof, and how long it can last depends on the material it's made from. The average lifespans for different materials are typically:
15 – 20 + years for asphalt shingles and composite roofs
15 years for pine shake, 20 – 25 years for treated pine shake and 30 years for cedar shake roofs
50 years for copper, slate, rubber or tile roofs
Asphalt shingles are the most commonly used material, but confirm your roof's material before calling in for a replacement. As a general rule, if you're aware it's been roughly 20 years since the last replacement, consider having an inspection done by an expert. A yearly inspection before a heavy winter can help ensure your roof's integrity, especially if you have standard shingles.
Stains & Streaks
Keep an eye on your roof both internally and externally for any stains or streaks. Dark stains are usually a sign of water damage and may indicate you have leakage somewhere.
Leaks can cause serious damage to your home, so it's wise to have this problem dealt with as soon as you can. A roofing expert can identify the source of your problems and help restore your roof. They can recommend a replacement if the damage is too great.
Moss is Making Its Home on Your Roof
It's normal to find moss on the ground, but you should be concerned if you find it on your roof. Moss grows in moist and shady areas, and if you're finding any on your roof it can be a sign of trapped moisture.
Remove moss with a hose, stiff brush, and cleaner, and then address the underlying cause of your mossy roof: the trapped moisture. This can cause significant damage to your roof, and you may need a replacement.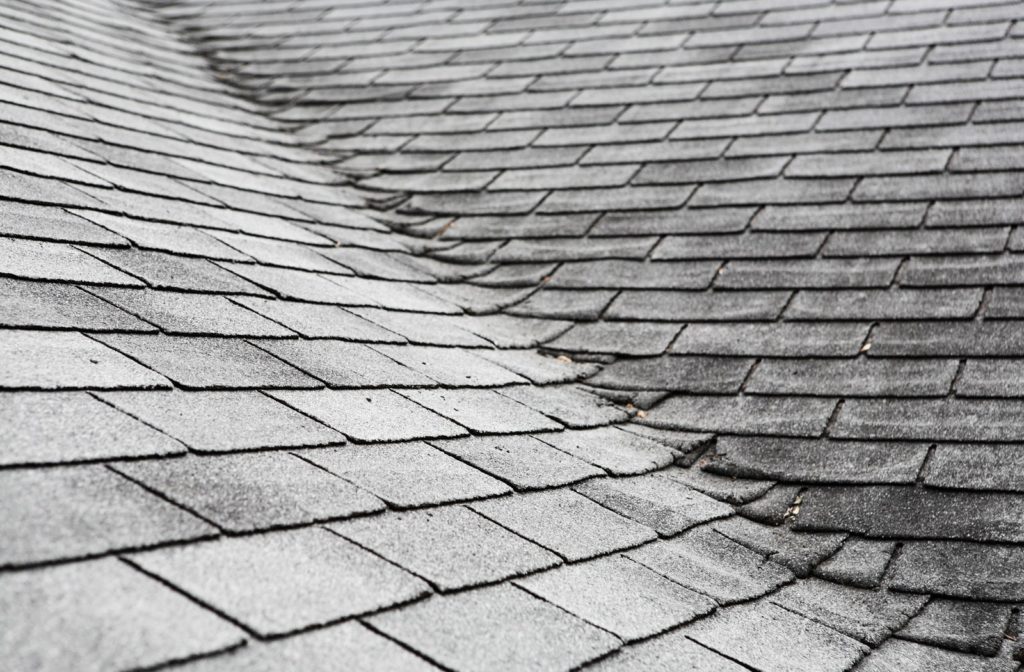 Your Shingles Aren't Looking Great
How do you know when your shingles are at their life's end? The most obvious signs are holes and cracks within the shingles themselves. If you find cracks in your shingles, your roof is likely past its intended lifespan.
Damaged shingles can allow moisture, heat, and cold to penetrate through your roof. There are other signs to watch out for besides cracks and holes, including:
Missing Shingles
It may seem obvious, but missing shingles on your roof need a replacement. If you lost newer shingles due to a storm, a simple repair can help. If your roof is getting up there in age, patches of missing shingles can mean a replacement is needed soon.
Losing Granules
Losing granules on your shingles is a definite sign of age. You may lose them due to damage to your roof or other incidents, but uniform granule loss is a part of your roof's ageing process.
Check your gutters regularly to look for piles of missing granules. If you're noticing your shingles seem darker or bare, it may be time for a new roof.
Curling or Buckling Shingles
Buckled and curling shingles can happen for several reasons, but they both identify an issue with your roof. Ventilations issues, sunlight and heat, or cold are all possible causes for your altered shingles, so you should address the problem as soon as possible. If you're noticing significant altering of your shingles, a roof replacement may need to happen soon.
Your Roof Valleys are Damaged
Roof valleys are a critical component of your roof and help to carry snow and water down to your gutters. You may already have damage to your roof if the shingles near your valleys are missing or altered. Consider this a major sign you may need a new roof.
Light is Shining into Your Attic
If you can go up into your attic, do you see any light shining through the roof boards? If yes, this is a serious problem and a sign you need a new roof. If your roof is newer, there may have been an issue during installation or a possible defect, but an older roof with this problem will likely need a replacement.
Walk on your roof to see if you experience a bouncing feeling. This is a sign of weakness and your roof may have water damage; leading to a likely repair or replacement.
Your Neighbours are Replacing Their Roofs
If you're unsure of your roof's current age, pay attention to what your neighbours are doing with theirs. Neighbourhood homes are typically built at the same time. If many houses are replacing their roofs, yours may be next.
Thankfully, you don't need to rely on your neighbours to determine if you need a new roof. An expert can help determine if you need replacement and provide you with an accurate quote. If you're debating whether or not you need a new roof, contact your local expert.